During our school planning evaluations, parents emphasised the essential role that school play in support of learning. This has led to our first strategic direction: "Learning is first and foremost":  
* the OECD highlights the role that quality education and a focus on education for all can play in support of both school achievement and equity, "Seeking educational excellence is the same as seeking educational equity"
* as a school we are exploring the interplay between explicit Quality Teaching, student led learning, twenty first century learning and quality curriculum. 
* this includes a focus of "product oriented learning" where the focus on the outcomes learnt at the end of the learning process through the production of high quality, authentic products.
Product Oriented Learning
Here are a few examples of our Product Oriented Learning work: quality products that often contribute back to our community:
Road Safety Mural Collaboration with Central Coast Council
The great thing about Wadalba Community School is our commitment to strengthening our community ties for the benefit of all. In the case of our Mural Project, the focus was on our younger community members and students, and their safety on our roads.Please enjoy the attached clip documenting the project. 
Easter Show District Exhibit
Congratulations to our students, supported by teachers across several faculties, for their achievement in coming second at the Easter Show District Exhibit. Their large scale work, representing and partnering with Central District farmers in NSW highlights many great attributes about learning in the 21st century. The judges applauded how articulate the students were, that they owned the work, and the originality of the concept which was based on a John Olsen artwork from the district. 2017 was our second year in the District Exhibit.
Our First CD Published
Our CAPA GATS CD was launched by Dame Marie Bashir, Governor of NSW, 2014. Proceeds donated to Wyong Hospital Pediatric Ambulatory Care Unit.
Our First Book Published
Our Aboriginal Student Writers group published our first book, Writers of the Future, 2015. It includes a collection of student writing that has  been published in Deadly Vibes magazine.
Renovating the Playground Boat for Tacoma PS
Our Technology and Applied Science students in collaboration with our cultural affirmation group and students from Tacoma Primary School restored the boat for Tacoma Public School's playground. The school is part of a proud river community.
Genius Hour
Y4-6 and Y7 students develop a "passion project" as part of their student led learning work in Genius Hour. Here are some photos from the Y4-6 sharing market where students shared their final products which included research, creating solutions to solve contemporary problems, writing a book, creating their own video games and other multimedia texts.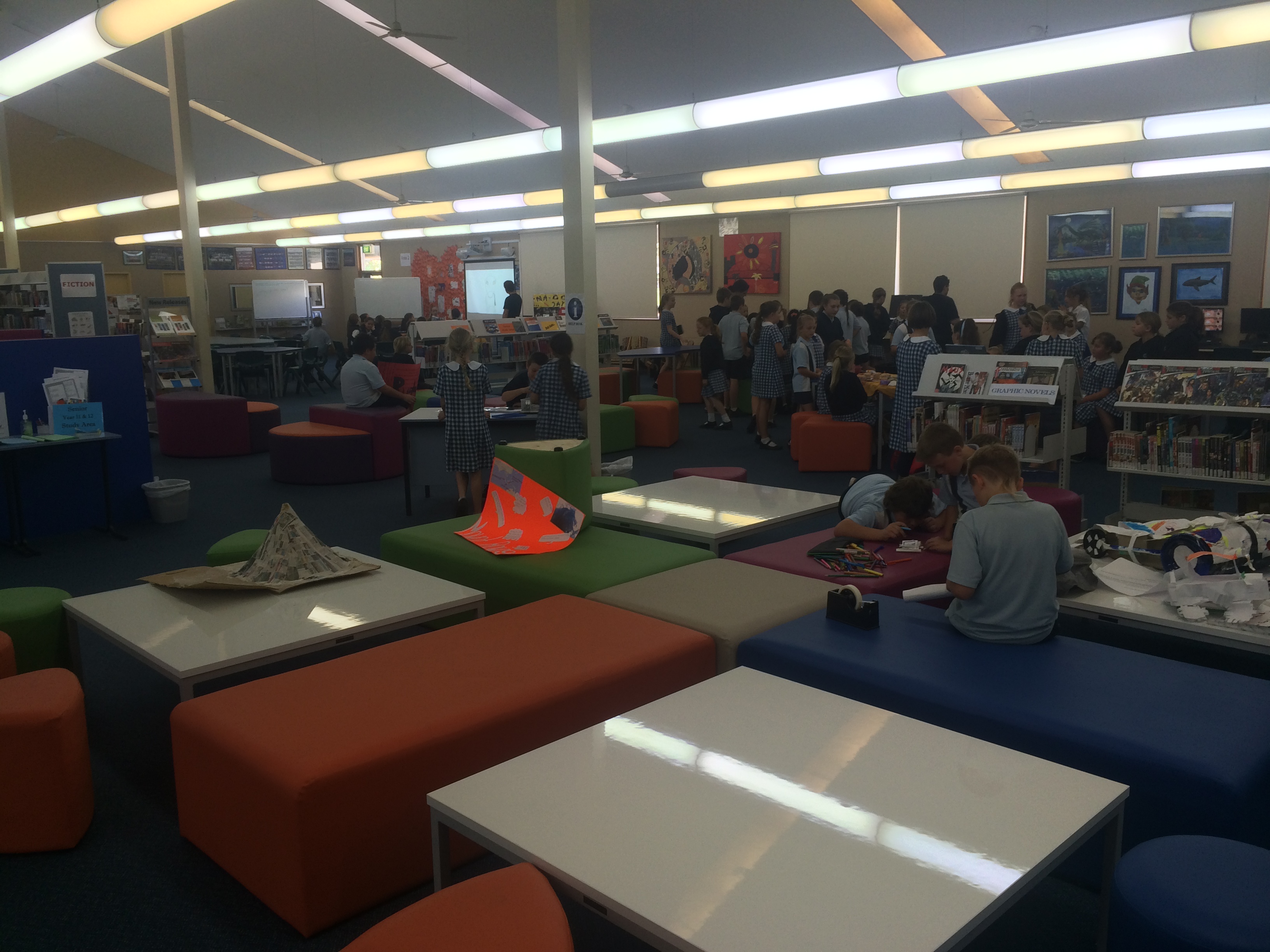 Primary Playground Upgrade
For 18 months, our 5/6 class 2015 have been working on a playground proposal. This includes writing convincing arguments in the form of letters and multimedia presentations and presented them to school executive and the p and c. Ideas were developed through a study of built environment curriculum. One of the impressive aspects of the proposals were they way they considered a range of priorities for different students.
In T3 2015, we got some new soccer goals a sports shed. In T4 2015, a MASSIVE sandpit for the inside playground has been built with thanks to the high school building and construction class and Mr Tunks who all worked very hard to get the job done in a very professional way. Your efforts have been rewarded.
Power4Learning Award 
The Power4Learning Principal's Award recognises high quality 21st century learning. Click on the link for the student application form Power4Learning 2017 (docx 371 KB). Applications are due Friday 20 October 2017.
Previous Award Recipients:
Power4Learning 2015 K (pdf 2367 KB)
Power4Learning 2015 T (pdf 2024 KB)
Power4Learning 2016 H (pptx 7664 KB)